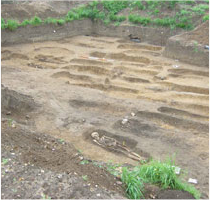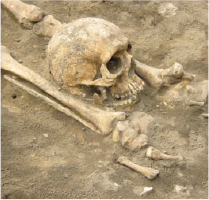 Current Projects
St Andrew's Church, East Lexham, Norfolk.
Some major improvements to the round west tower of St Andrew's church are being carried out with associated building recording and monitoring of works. Porthole openings probably contemporary with the building of the Norman tower have been identified and recorded both internally and externally. The late medieval octagonal brick top of the tower was recorded prior to its rebuilding. Works are ongoing.
Late Iron Age/Early Roman evidence from Ashill, Norfolk.
We have carried out an extensive programme of archaeological evaluation by trial trenching in Ashill that has produced evidence of activities during the Late Iron Age/Early Roman period. Large quantities of pottery were recovered from ditches revealed in many of the trenches and, excitingly, fragments of pottery kiln furniture from one trench in particular indicating the likely presence of a kiln/s nearby. Spot dating of a sample of the pottery shows a probable mid-1st century date. It is probable that a programme of geophysical survey will follow to map the ditches in more detail and locate any kilns for subsequent excavation.
Roman cemetery in Great Ellingham, Norfolk.
One of the largest Roman cemetery sites in Norfolk has been subject to a programme of archaeological excavation as part of the planning process following an application for residential development of a site in Great Ellingham. Complete burials and isolated finds of human bones have been recorded at, and immediately adjacent to, the site since the late 1950s. We carried out an archaeological evaluation by trial trenching in November 2011 that revealed articulated in situ Roman burials and isolated finds of disarticulated human bone, confirming the cemetery extended into the proposed development site.This lead to an archaeological excavation and we have been excavating the site for the last 4 months. Amazingly, 85 burials have been excavated, recorded and removed under licence from the Ministry of Justice – the most previously being recorded in Norfolk was about half this amount. One particular feature that has been identified from the excavations is the seemingly deliberate placement of flints around the skull and in some cases to each side of the pelvis or by the feet. One burial represents a decapitation burial where the head has been placed by the feet, surprisingly not an unknown type of burial from other Roman cemeteries. Analysis and research by a human bones specialist will no doubt shed more light on these and the other burials.
Excepting an iron finger ring that may have been deliberately placed with one of the burials, grave goods have been none existent. The population represented by this cemetery was most probably a rural settlement reliant on farming practices though, at present, we don't know where this settlement was. However, it must have been a large, or at least long-lived, settlement given the number of burials we have found in only a small part of the full extents of the cemetery. All the burials have now been removed and a long programme of report writing follows including a publication to be made in an archaeological journal. A further article will be provided on the website once we have prepared the report and publication.
Excavations were carried out adjacent to this site in April/May 2016 and produced a further 11 in situ burials, almost certainly a part of the same cemetery site. Further excavations are yet to be carried out and a programme of post-excavation analysis is underway.