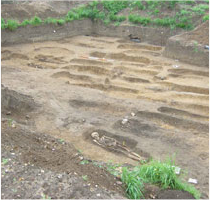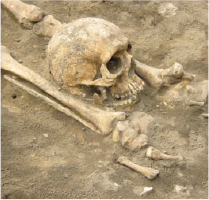 Current Projects
A small selection of projects
Late Saxon to medieval remains in Heacham, Norfolk.
Phase 1 Trial Trenching as part of a Programme of Archaeological Mitigatory Work was initially carried out at a site in Heacham. The trenches were located to investigate earthworks recorded during an earthwork survey and features marked on a National Mapping Programme plot. A probable medieval/Late-medieval date was ascertained for some of the earthworks, others proved to be of modern date. Further archaeological remains of probable Late Saxon/early-medieval date and medieval/Late-medieval date were also recorded. Despite the proximity of two early medieval burial grounds, no human burials were encountered. Phase 2 comprising archaeological excavation and monitoring is ongoing and hopes to add further information on this fascinating site.
A medieval to Post-medieval site in Norwich, Norfolk.
Trial trench evaluation of a residential development site in Norwich revealed some fascinating archaeological remains possibly as early as the Late Saxon and early-medieval periods. A further phase of archaeological excavation is to be carried out at the site.
Late-medieval to Post-medieval remains in Holt, Norfolk.
Trial trenching prior to proposed residential development in Holt produced occupational evidence and post-excavation work is currently underway.
Post-medieval remains in Beccles, Suffolk.
An ongoing programme of works under archaeological supervision and control is currently underway and has so far produced only sparse remains probably dating to the Post-medieval period.
Post-medieval remains in Badwell Ash, Suffolk.
Evaluation by trial trenching produced evidence of quarrying probably during the Post-medieval period.